Who's watching you? (Maybe everyone, it turns out) 
Facial recognition, doorbell cams and why $100 for two hours of extra work is suspect
This week, we're talking facial recognition technology, Ring doorbells and paid protestors.
The New York Times published a blockbuster piece on Clearview AI this past week, detailing how the company's facial recognition technology can easily match a photo of a person to its database of 3 billion publicly available photos, like those featured on social media profiles.
The reporter, Kashmir Hill, said the technology found pictures of her she didn't even know had been taken, and even identified her when she covered her face with her hands. In another section of the piece, a police officer says that Clearview AI can identify people even if they're wearing hats or glasses or the photo is taken of the side of their face, from an angle.
It's of concern, of course, because it's being used by hundreds U.S. law enforcement agencies, and according to Hill's reporting, Canadian law enforcement authorities are also using it.
If you haven't read the whole thing yet, please do, there are lots of stunning details in it.
Since Hill published her initial piece, Twitter sent a letter to Clearview AI, demanding that it immediately stop taking photos and data from Twitter, and to delete any photos and data it already has collected. And, a Democratic senator wrote to the company, asking for answers by mid-February.
Expect much more to be written about Clearview AI.
Hey, what about Yandex?
Speaking of facial recognition - there's already a free tool out that that is actually extremely good at recognizing your face. I'm talking about the Russian-based search engine, Yandex.
Nelson Minar has detailed his findings in this post where he tests out how good Yandex is at recognizing his face, using a photo of himself he's never put on the Internet before. He was inspired by this Bellingcat post on reverse image searches.
(In fact, his work was highlighted by a journalist from the Daily Mail, which is not a publication I particularly expected to see concerned about privacy and facial recognition.)
I've used Yandex before when trying to figure out where the photos on a fake news network came from - in that case it was helpful in linking us to the actors whose photos were being used on the fake news site. And if you're wondering how big a deal this is, according to Yandex, its search engine accounted for 56.5% of all searches in Russian in 2018.
But here are a few other things you may not know about. Yandex last year put out a release trumpting a partnership between Yandex.taxi with Uber.
That may not seem so striking, but then check out this Bloomberg story from last August: "Big Brother to Force Moscow's Sleepy Cab Drivers to Take Breaks." According to the story, Yandex "is installing facial-recognition technology in its ride-hailing unit that'll cut off chauffeurs from taking new orders if necessary."
Here's a photo Yandex provided to Bloomberg of what that might look like: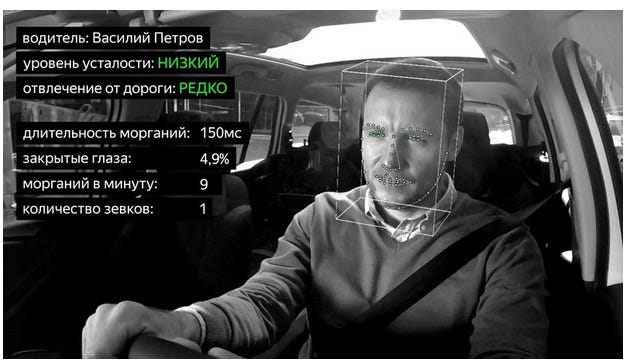 Windsor eyes (heh) partnership with Ring
In keeping with the surveillance theme this week, we'll move from facial recognition to regular old video.
Windsor is considering partnering with Ring, the doorbell camera company now owned by Amazon. Many US police forces already have partnerships with Ring - and those partnerships have been the subject of outcry there as well. NYT's John Herrmann has a good overview here.
Ring also has an app, Neighbours, that allows people to share and upload footage with others in the area.
Mayor Drew Dilkens is in favour, and said if the plan goes ahead, it would make Windsor the first city in Canada to partner with Ring.
I was curious to know if any other forces were relying on porch/doorbell cameras, and it looks like Halton Police here in Ontario have started a voluntary program called S.C.R.A.M. (I know), or Security Camera Resource And Mapping.
Here's how it's described:
S.C.R.A.M. enables community members to voluntarily identify their residential video surveillance location through a simple, secure, confidential, online form located on the Halton Regional Police Service website. Identified addresses will be mapped on a database of surveillance camera locations for officers to quickly and effectively direct resources when investigating criminal offences in your neighbourhood. Your participation in this innovative program can deter and prevent crime, and save lives.
Paid protestors
Then there's the curious case of the "protesters" outside Meng Wanzhou's extradition hearing in Vancouver this week. (Wanzhou is the CFO of the tech company Huawei.)
Julia Hackstaff, who spoke to CBC and The Globe and Mail among other outlets, said she thought she was being paid to be an extra in a movie. She said she was told she'd get $100 for two hours of work. CTV reported another man thought he was showing up to appear in a music video.
Huawei has denied any involvement. There are still questions about who was ultimately behind the protest.
But it also struck me that this story is like the in-person equivalent of not reading the article before sharing. I was curious about whether the rate that Julia Hackstaff mentioned was similar to what an actual extra might be paid.
This B.C. casting agency says a non-union extra in B.C. will make minimum wage, which is $13.85 an hour. This Blog TO link suggests that in Toronto, union extras could make $26.75 an hour in 2018. So clearly, $100 for two hours (which is also a very short amount of time for the film world, and should have been another red flag) is much higher than that. Too good to be true.
"I wasn't educated ... and that's a shame on me," Hackstaff told the CBC.
I am not mentioning this to shame Hackstaff, but I do think it's a very good example of how we should be using our critical thinking skills all the time, and asking if something passes the smell test.
Lastly, this piece in the Star caught my eye and feels like a companion read to the protest story: A new group called Alliance Canada Hong Kong (ACHK), helmed by Cherie Wong, will be keeping an eye on Canadian politicians in their interactions with China, and pushing forward a human rights agenda. Wong says she doesn't think Canada has been critical enough of China human rights abuses.
Tidbits:
The news organization Ricochet details here what it took to get a journalist into the Unist'ot'en camp in B.C., to cover the protests by Wet'suwet'en hereditary chiefs' stand against the Coastal GasLink pipeline, and why they felt it was necessary.
You may not see how this is related to disinformation, so let me explain: as local news outlets across the country have shut down, they've left behind "news deserts." Journalists bring important context, analysis and critical thinking to issues, and when done well can hold power to account. But many Canadian communities no longer have local coverage, so they don't see their world reflected back to them and may be missing crucial information to help them make decisions. Or - the communities are so remote, there wasn't much in the way of coverage in the first place. In news deserts mean disinformation can thrive.
And without journalists, people might end up relying on press releases from police or other parties for information, which may not be accurate.
Other tidbits
Jeff Ballingal, of Ontario Proud, Canada Proud and The Post Millennial, is now working for Conservative leadership candidate Erin O'Toole
Canadaland details how Christopher Wilson, who formerly worked for The Rebel, has been elected to the board of directors for Vancouver's Non-Partisan Association.
Lastly: Facebook cuts plan to put ads on WhatsApp
So, I guess, just remember, Big Brother is already watching you? (Sad yay).